A difficult conversation we must have as a One Lubbock Community is a reckoning with how Lubbock's city policies led to the collapse of East Lubbock and what can be done to right those injustices. It's a conversation our city leaders are reluctant to engage in. There's no formal city revitalization plan, just a patchwork of various policies that amount to little beyond some magical thinking on how downtown revitalization will "trickle down" across I-27.
There are aspects of this patchwork that should be applauded. The Lubbock Compact is excited to see the city pursue over $8M in financing through certificates of obligation to pave dirt streets, the bulk of which are located in the eastern and northern portions of our city. Of the 54 miles of unpaved streets in our community, this amount of financing will cover 4.93 miles of it.
The city fulfilled its 2040 Comprehensive Land Use Plan promise to hire a neighborhood planner and added $250,000 into the budget for them to utilize for neighborhood revitalization after the Lubbock Compact began advocating on the issue. It's a far cry from the $650,000 commitment to each neighborhood that Amarillo has made for their revitalization process, but it is a huge step in the right direction.
The reluctance by city officials to discuss the topic openly is understandable. It's a complex weave of history and policy that created the decline of the East side, its revitalization requires untangling it. When Natalie Miller, a well-informed East Lubbock resident, asked a city official if there had been any discussion on utilizing transitional zoning and amortization strategies to deal with industrial blight at a community meeting last summer, the official had to deflect and move the conversation elsewhere.
So what has happened to East Lubbock? Below is a brief synopsis of destructive policies, and what can be clearly seen is a history of policies being done TO East Lubbock, rather than BY East Lubbock. Each of these policies deserves a more detailed examination, and we will strive as an organization to find collaborators who can assist to make that a reality.
Ordinance 223: Black people are industrial activity.
This 1923 ordinance prohibited Black residents from living anywhere but a small section of land, south of 16th street and east of Avenue C near early Lubbock's industrial activity. It also labeled Black Lubbockites as, "causing danger to health and polluting the atmosphere." By labeling Black citizens as pollution, it would enable future land use discrimination even after Lubbock's 1959 development plan stated industrial activity as incompatible with the, "proper environment for a home."
Racially motivated selection of where industrial areas of Lubbock would be located.
Once being forced to live near industrial activity through segregation, city policy continued to view Black residents as being equivalent to pollution. As the black population grew, the city found it appropriate to continue to pursue segregationist policies by expanding industrial zoning designations in lock step with that growth. The result of this process is what we see today: toxic industrial land uses surrounding and within East Lubbock neighborhoods. This issue also the same for North Lubbock Hispanic neighborhoods along Clovis Highway.
Urban Renewal, a devil's bargain.
The legacy of federal urban renewal policies from 1955-1966 across the US is mixed, and Lubbock is no different. Communities were allowed to destroy "blighted" areas in exchange for dollars to build affordable housing. Those dollars came with some important strings attached. One was that areas needed to conform to a restrictive single use zoning style that would force the separation of essential neighborhood economic activity and residencies. While many new homes were built in East Lubbock, trade off was sacrificing thriving neighborhood businesses and the entrepreneurial drive often described in areas like Chatman Hill. Urban Renewal left neighborhoods with few economic assets except for their elementary schools. The wave of school closures during the 2010's of Wheatly, Illes, Arnett, Parkway, and Bozeman in neighborhoods resulted in an exodus of families and declines in homeownership.
Unanticipated consequences from education reforms.
Before the elementary school closures took away the only remaining neighborhood assets, the choices made during the desegregation of Lubbock's schools in 1967 had a lasting impact on the educational system's ability to confirm the skills necessary for East Lubbock citizens to bootstrap themselves out of poverty. Senior members of the community recall a period of time when their schools were successfully empowering a rising Black middle-class.
This period came to an end when Lubbock's all-white at-large school board attempted to preserve the racial purity of more affluent schools like Coronado High School by shuffling Black student enrollment out of their neighborhoods and into a new feeder system. Estacado High School was built for the express purpose avoiding true desegregation by blending Black students from the East side with what was then the white working-class neighborhood of Cherry Point-Parkway. The delicate fabric that connected schools, community, and place together was ruined. Ultimately, the federal government did not accept Lubbock's heavy-handed approach to desegregation and imposed busing on the city. Estacado's student enrollment numbers collapsed in the three years after it was created, making it the first instance of the white flight phenomena in Lubbock.
I-27, a physical and economic barrier.
The existence of I-27 is why the East side must have an independent economy. The role of interstate highways as barriers to economic opportunity is a well characterized phenomena across the US. When I-27 was extended into the city of Lubbock in 1992 it represented the complete isolation of East Lubbock from the rest of the city. The "I-27 effect" can be seen in many analysis of economic activity in Lubbock. As an illustrative example, the map below shows a heat map of the density of jobs protected through the covid-related CARES act's Payroll Protection Program.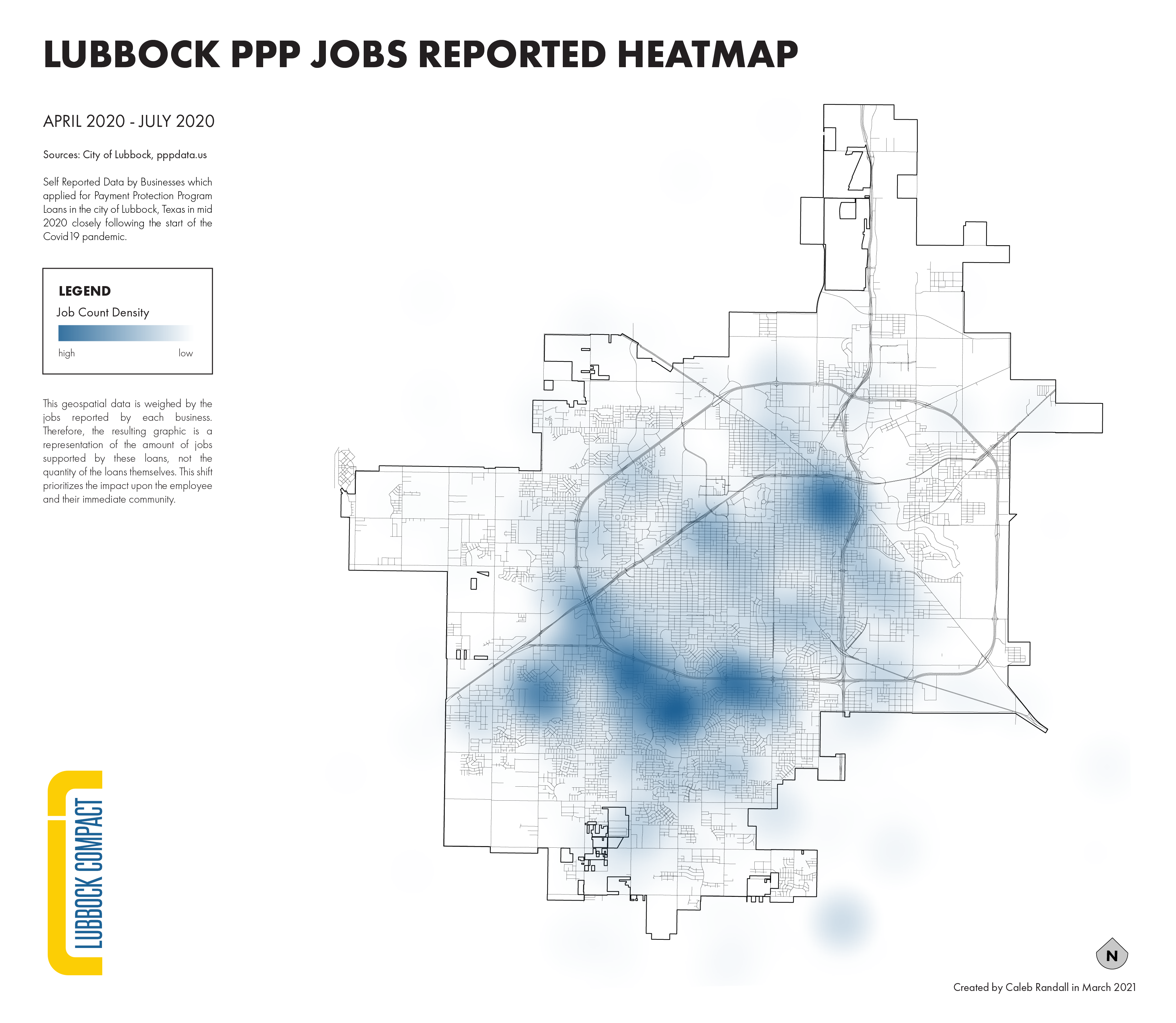 Creating a thriving East Lubbock economy is possible and is a moral obligation.
Just as it was policy decisions that lead to the decline of East Lubbock, policy reform can create the right environment for revitalization to occur. The first step is that East Lubbock neighborhoods need a policy reform to allow for self-determination. The city has begun the first essential part of this process by hiring a neighborhood planner to work with neighborhoods in putting together action plans. Action planning can result in transformative projects, like the $5M+ project in Amarillo's North Heights neighborhood to create a linen processing facility that was catalyzed by their neighborhood planning process.
Neighborhood planning is a time consuming process, it wouldn't be surprising if it takes the better part of the decade for all East Lubbock neighborhoods to have all gone through this process and onto implementing new projects. During this time, there are more immediate actions the city can take to accelerate East Lubbock's revitalization.
First is to correct the issues urban renewal began with overly restrictive zoning. The city is currently updating zoning and codes into a single document called a Unified Development Code (UDC). This UDC needs to allow for light retail and commercial activity back into the neighborhoods. The risk of entrepreneurship is more manageable when you don't need to lease and put a deposit down for a separate building. Imagine a restaurant being operated out of house.
The UDC should also begin the process of "phasing out" industrial zoning in East Lubbock, first by designating it as transitional zoning and creating a moratorium for any expansion or new developments of industrial activity anywhere near neighborhoods. This action will send a signal to industrial site operators that it's time to begin considering options for relocation. Similar to its role in clustering together business activity inside a business park, Lubbock's economic development agency should pursue the creation of an industrial park where pollution activities can be contained.
In addition, the UDC should go a step farther to end the creation of low-quality new housing. These "disposable neighborhoods" deteriorate rapidly and do not retain homeowner equity. It can accomplish this through implementing "form-based codes" that create building standards. If there's one take away from Urban Renewal, it's that not all development is good development. Driving through the Thunderbird neighborhood, one can clearly see these new low quality housing developments quickly become neighborhood blight.
Next, the city needs follow Amarillo's example and incorporate a financing facility for operationalizing neighborhood plans into its upcoming bond election. The city council is currently preparing a proposal for a $120-$150M bond election citizens will vote on in November. Tapping into this financing would be spread out over many years as it would need to be available as neighborhood plans are completed.
Since the city defunded the North East Lubbock Development Corporation, there is a need for a new federally designated Community Development Finance Institution (CDFI). Community CDFI's are a best practice for ensuring financing and small business loans are available for revitalization. CDFI's have access to federal grants and technical assistance money. Without a CDFI, Lubbock leaves money on the table that could be used for economic development.
Lastly, the city should incorporate a proposal for reconnecting East Lubbock to the rest of the city into its Ports-to-Plains initiative. Examples of communities creatively bridging their interstates to right economic injustice is happening across the US. The simplest concept for I-27 would be to cover portions of it with greenway connectors and parks.
Incorporating this into the PtP initiative would increase the cost substantially but given the Biden administration's emphases on rectifying economic segregation in its proposed $3 trillion "Build Back Better" bill, it may make PtP a more appealing project to receive financing.
There's a lot the city could be doing right now to foster an economy that stands on its own in East Lubbock, but first we have to understand and acknowledge the role city policies have had in creating its downfall.